And this is how Kumu Hula Uncle George Naope came to us in Europe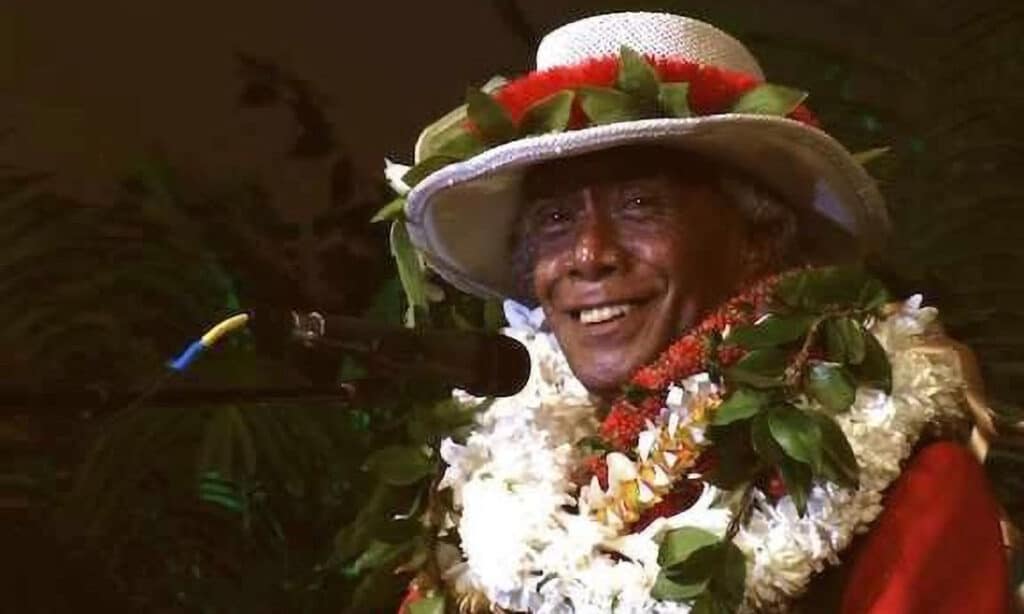 Uncle George Naope was a very respected Kumu Hula from Hawaii. Among other things, he contributed significantly to the creation of the Merry Monarch Festival. He was a full-blooded Hawaiian. Legend has it that Hawaiians are descended from the Pleiades (arrangement of stars). Uncle George was about 1.55 tall. I heard someone say he was a Menehune. The legend tells that Menehunes loved dance, music and archery. Uncle had never set foot on European soil before, and at that time I had no idea that he would never return.
Hula in Europe – my first hula teacher
You could say that it was like a kind of culture shock for him. He would probably call us Germans, Swiss and Norwegians "illiterates" in dance. He was likely to find that many Europeans were very far from body awareness, body discipline, and mindfulness of their own posture and body. For us as participants it was a great pleasure to experience him, with as his charm, wit and endless stories about Hawaii and the goddesses of the islands. After teaching us a wonderful Hula Kahiko dance about the fire goddess Pele with all patience, he waved us goodbye with a light Auana Show Hula dance.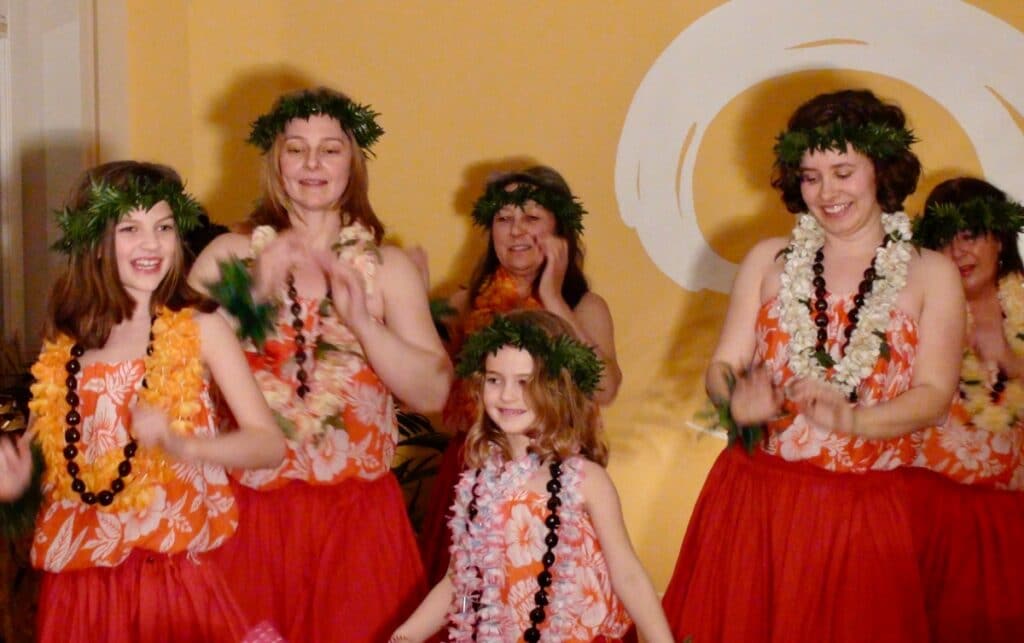 Professional dancer
As a trained dancer, I had learned to pick up movements immediately. You will be auditioned and the most expressive dancer corresponding to the role you are looking for has been hired for the production. That was the business.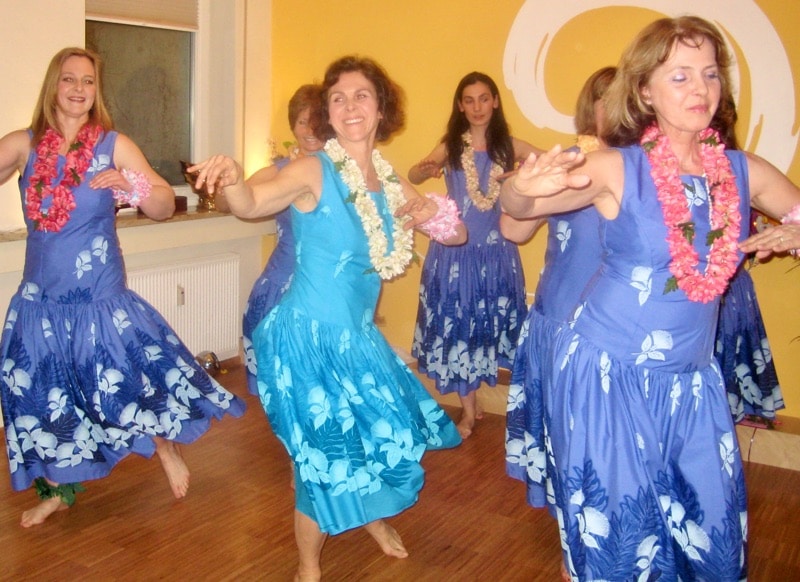 This was now 100% to my advantage here. I was his lead dancer from one second to the next.
Is Hula difficult or easy to learn?
A good question! In hula, the feet dance the rhythm. There are many different basic steps, these are all based on an 8th rhythm. The pelvis sways wave-like from side to side, like a crescent moon. The arms move fluidly and rhythmically. The eyes follow the movement of the hands and so the head also always dances along. The whole body sways to the sound of the music, a feeling of devotion, beauty and inner peace spreads.
Together love, light
and create good relationships!!!
If a woman wants to learn hula, it always starts with the base, the rhythm in the feet. Naturally, as the weight shifts, the pelvis begins to vibrate and the body begins to "groove". Learning hula is fun, it lets us dive into an unimagined world. The upper body, arms and hands, and head movements tell the story of the song, called "mele" in Hawaiian.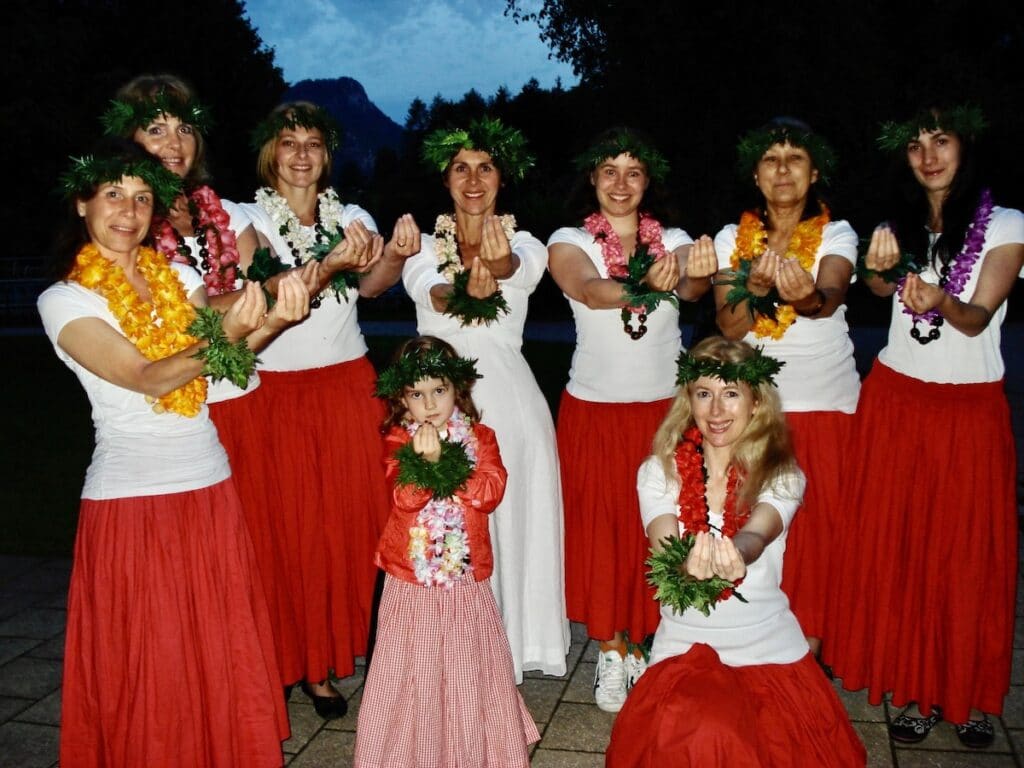 It is a journey into another culture
Care and respect your own being! Nourish your soul and be mindful in your body and mind. Only then can you serve and support your family and the community.
This is also Hula!
Mahalo Nui Loa
At this point I would like to thank all my teachers. And to you who are reading my words right now. You inspire me to write, my story, my experience! Thank you so much!!!