How I met Puna Kalama Dawson!
Kauai December 2001.
We just walked along the turquoise sea. There was a light wind blowing from a distance and we saw a woman waving at us. She came walking to us. It was Anne Christine from Norway. With her I had organized the training "Kino Mana Hawaiian Body Power" in 1995. I was translating a training of Aloha International in Norway at that time and we knew each other well. She began to tell about a hula teacher. She formally challenged me and told me that I should definitely get to know her. She was greatI and I would certainly like her. I trusted her and wanted to comply with the request.
Anaholo State Park
A few days later I went to Anahola with my family. Anahola is an area on Kauai. It was assigned to the Hawaiians as "Your Kauai" by the American government after annexation.
Looking for the Hawaiian hula teacher and the place where she taught, we saw in the distance some women u men standing on the beach and talking animatedly. That's where it had to be. But I saw neither a hula teacher nor anything that would indicate that hula would take place there. A woman perceived that we were looking for something and invited us to come closer. You have come to the right place. We never know when Puna will come, she said.
"HAWAIIAN TIME"
It is not the time of day that determines the start of a hula lesson,
but when the time is right, teaching takes place.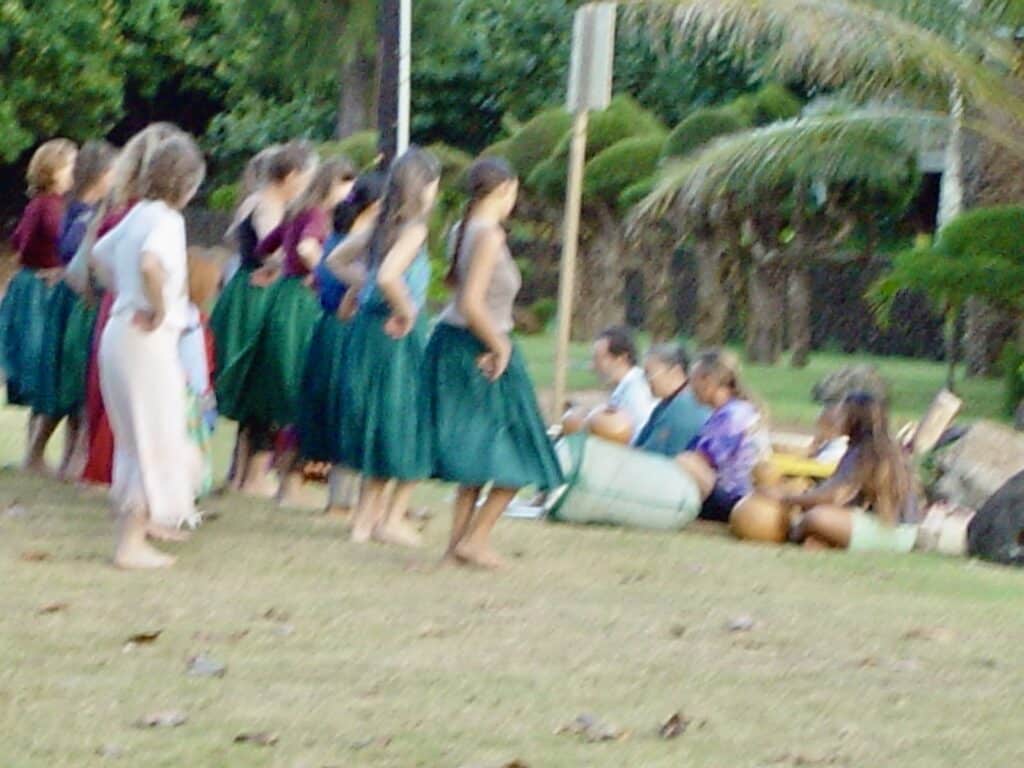 I had to introduce myself
About 45 min after the originally stated time, Puna arrived. Your appearance alone made me alert and excited. In an instant, everyday conversations fell silent and everyone was all ears. Somehow I had to introduce myself. I gathered all my courage and went to her. I told her my name and that I had studied with Uncle George Naope. I would be allowed to stay. Succinctly and warmly, she told me I was welcome and to stand in the back row.
PUNA and the musicians play
IPU AND UKULELE
Meanwhile, the drummers had settled down with their instruments next to Puna. We stood in front of you in rows. I, was standing in the last row From there I could no longer see them. In front of me were about 5 rows of 6 – 8 dancers per row.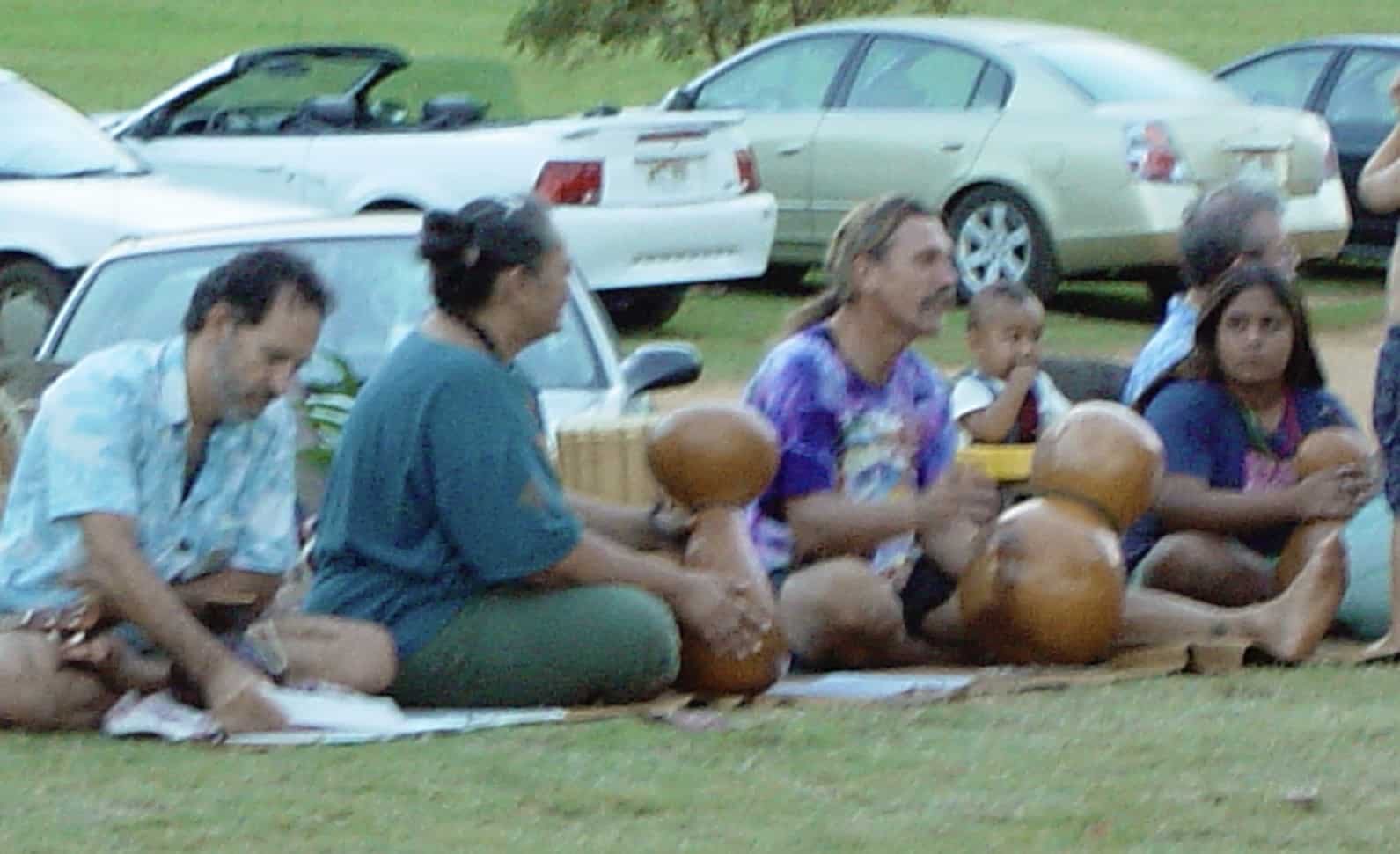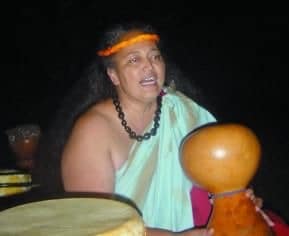 PUNAS SINGING
When Puna started to sing, her voice and the drum rhythms enchanted me into another world. I was overcome by a deep feeling of security, gratitude, and above all harmony, your singing was like caressing my soul. Anne Christine was right, this encounter was a new start in the world of hula dance.
I saw my husband coming with our two sons. My sense of time had evaporated.
The mood was now very joyful. The children came running to me. They had timed it just right, where Puna was saying goodbye. We all hugged and said goodbye with Aloha.
MY SOUL FELT CARESSED
Hula time on the beach made me feel more content inside, more balanced and harmonized all around. I felt nourished. Everything was addressed. Physical exercise, mental demand and my soul felt caressed by the bliss that was around me.
Puna Kalama Dawson
Keikilaniwahinealiiopuna (Puna) Kalama Dawson is guardian
of Hawaiian culture and history.
She is an internationally respected elder
of the Hawaiian Islands.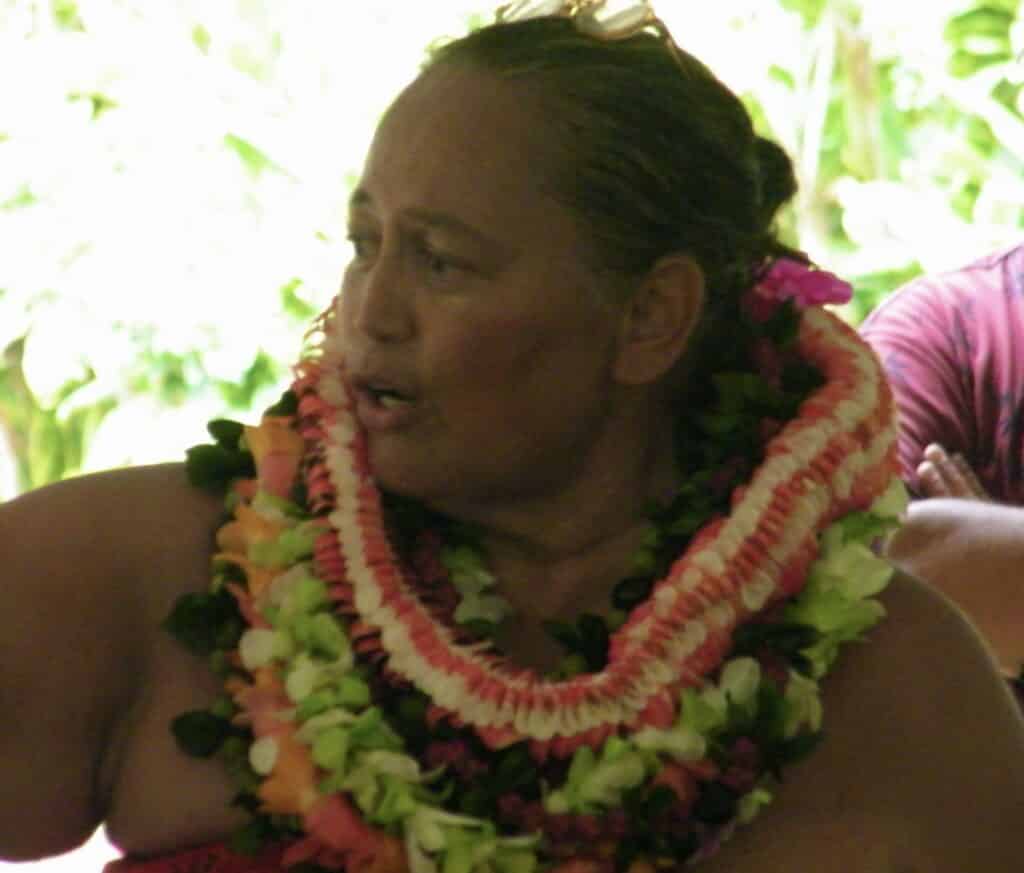 Their family roots take them far back into the past. Their direct ancestors can be found in the royal family of the Hawaiian Kingdom period, as well as in the circles of the hula masters (kahula), the lua masters (kalua), and the seers (kahuna).
DANCING for WORLD PEACE
Puna travels to Europe in the footsteps of her ancestors (among others) to strengthen cultural bridges and support world peace.